Inside NM Group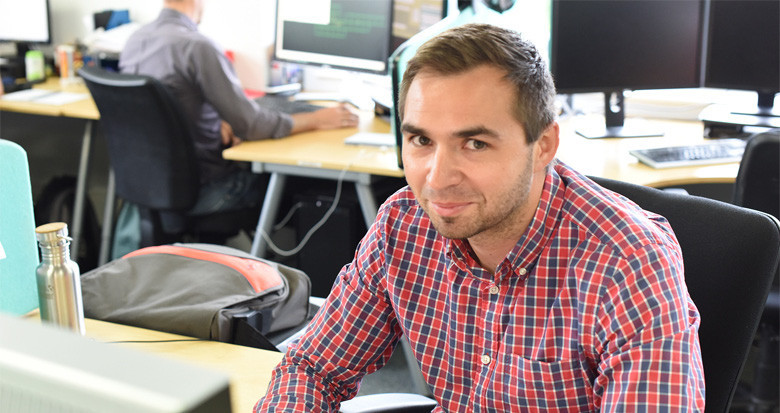 Kostas Lopsaitis, Production Manager
Kostas joined NM Group in 2011 as part of our data processing team. He has progressed through the company, been promoted several times, and is now Production Manager, managing six teams of processors to deliver all the data required by the business.
How and why did you join NM Group?
I met Karol while playing volleyball and he tipped me off about a data processor vacancy back in January 2011. The company looked interesting and I was impressed by the technology. Oh and also, I didn't have a job at the time.
What was that process like?
As this was my first proper job interview in Britain and I didn't have much understanding about the industry I was very nervous. The first few months were very exciting and difficult, as I wanted to reach the technical level of the other people in the classification department.
What did you do before you worked here?
I worked in a hotel chain in Vilnius, Lithuania.
"We do good, meaningful work and we are good at what we do"
How long have you worked for NM Group?
6 and a half years in August.
What role were you in when you started with the company?
I started as a data processor, mainly doing classification, mapping and quality control.
In a nutshell, what does your role entail?
As Production Manager I make sure the processing teams are working efficiently to deliver the data on time and to the required quality. Easy stuff!
What made you want to pursue this career?
NM Group has been the best company I've worked in so far. Wanting to improve things is usually my main motivation, but also the trust and confidence I got from senior management when I first took on the manager role.
What opportunities have you been offered whilst working at NM Group?
I've been fortunate to be promoted several times to end up in my current role. It also has been rewarding to be given the freedom to change things or introduce new ideas.
How would you describe the office environment?
I enjoy being surrounded by people from all over the world with all kinds of experiences.
What makes you proud to work at NM Group?
The fact that we do good, meaningful work and that we are good at what we do.