Inside NM Group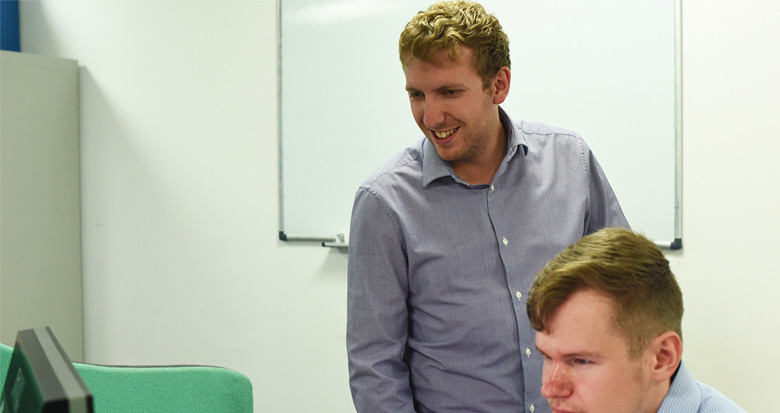 Joseph Whincup, IT Manager
Joseph started with NM Group nearly four years ago on an IT apprenticeship. He now manages the IT department, which has developed from solely support focussed to an infrastructure team.
In a nutshell, what does your role entail?
Essentially, IT activity for NM Group; both the support aspect and what is now an infrastructure team. This means making sure that the storage servers have enough capacity and are available when we need them to be. Looking at the IT requirements for any new big projects that we've got coming to ensure we have the resources needed. We're starting to do a lot of cloud computing, so that has come under my remit as well.
I was also involved in the first days of Caydence, building what now makes up 95% of the code. We developed it over a series of weekends; based in the training room at the office, over beers and pizza and having a really good time. So I also take a bit of responsibility there, and am heavily involved over the security and on the infrastructure side.
What made you want to pursue this career?
I already had a passion for IT and computing. I'd been doing a lot of gaming and a lot of web development in my own time before I started at NM Group. I built my first PC when I was 8 and I'd always been playing around with computers.
"Our founders are really close to the business and their passion for what they want to achieve is really clear"
How and why did you join NM Group?
I left school shortly after my A Levels. I originally wanted to be a Doctor, but had gotten tired of academia and started looking for apprenticeships. I already knew Paul Richardson from Rugby, but didn't really know too much about what the company did. I was quite excited about the prospect of the amount of technology used here. I joined NM Group on a year-long IT apprenticeship with York College. I finished it in 6 months and was offered full-time employment.
What role were you in when you started with the company?
Day to day, I'd be doing things like building computers and answering support requests that were particularly hardware related. So if someone's mouse didn't work or their screen was broken, I'd look at it and find the problem, replacing it if needed. I also developed the first version of our internal intranet. The focus was very much on support in the IT department then. There was three of us in the team; two apprentices and the IT manager. We didn't do a lot to do with infrastructure then, that was outsourced.
How have you progressed within the company?
After a year's solid foundation in support-based IT work, management realised that I had technical skills that could be used elsewhere. I started doing a lot of work in R & D, which pushed me quite far in terms of my technical ability. At the same time, I was already starting to take responsibility that was above and beyond my role at the time, like managing the license agreements and the associated costs. When the IT Manager position became available, my manager approached me and asked me how I'd like the job. At the time progression wasn't something I was necessarily looking for as I was pretty happy staying technically focussed, but management has been something that I've really enjoyed.
How would you describe the work ethic?
Everyone mucks in together to get the job done. Our founders are really close to the business and the passion for what they want to achieve is really clear. It filters down through the team.
What would you say are some of the biggest challenges you face here?
My major challenge is to do with system management. We need to be able to communicate efficiently and securely with the wider company and make sure that everyone gets access to the information they need.
What opportunities have you been offered whilst working at NM Group?
Aside from the initial apprenticeship and then being offered a full-time job, I've always been offered training opportunities. I've got my CCNA, which is a well-renowned industry standard network qualification. The company financed the course and I did it after work at Leeds Network Academy. I completed that last December. Since joining Trimble, we're starting to bring infrastructure back in-house as it makes sense long-term. The ITIL qualifications that I've done have given me really beneficial insight into system management on a bigger scale, as well as industry best practice.
I've had the opportunity to spend a bit of time in each department. IT is great because you interact with everyone, get their feedback, take it on board and look at how you can help them. We're always looking for solutions, which ties in people from different areas of the business.
How would you describe the office environment?
I regularly go out with the guys from work; there's a great bunch of people here. The company has quite a family atmosphere, everyone knows everyone and there's not a problem too small that the guys at the top aren't willing to listen. I've never found it difficult to approach management and I think that says a lot about the company. There's an open door policy for all the managers and it's something the company prides itself on. I think it's really good.
What do you like most about working here?
Our ability to innovate and the technology is pretty cool. The things that we're doing at the moment; capturing the data differently than we have done before and the processing methods we're using. We're accelerating and using technology to our advantage and it's really exciting for me, as an IT professional.