Technology Focus – Caydence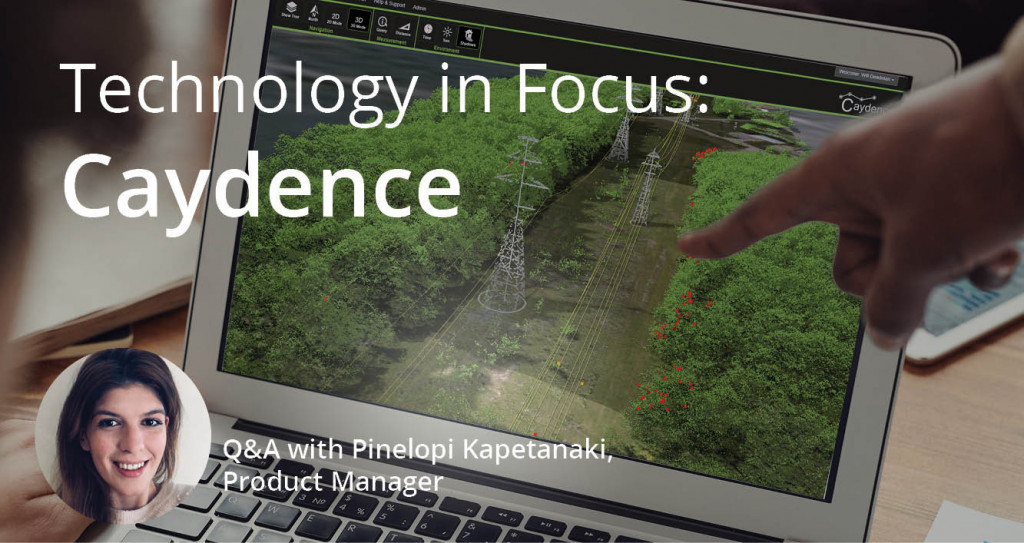 In a blog going a little deeper into the technology we employ to deliver our solutions, we consider how they help utilities to do their day job better and what led to us creating them. In this first piece we look at our 3D visualisation software - Caydence®. To learn more, Caydence Product Manager Pinelopi Kapetanaki answers some key questions.
Can you explain your role here at NM Group?
I am the Product Manager of Caydence, a 3D visualization platform of electricity networks. My role involves activities like working with various stakeholders for setting and implementing the product vision, gather external (clients) and internal (sales team, project managers, business development managers) feedback and bring this into a feature roadmap, manage client demonstrations and bringing together documents and materials to support sales.
Okay so what is Caydence?
Caydence is a 3D visualisation software solution that essentially depicts a utility network. It brings together asset data, remote sensing spatial data with bespoke analysis customised to client requirements to identify and report on asset issues. It also supports organisational level account management with user profiles and roles.
Why do you believe that these concepts are valuable for utilities?
Utilities benefit by using Caydence to display large datasets in a 3D environment for easy access and evaluation of their network status. Caydence helps improve the decision making process by giving easy access to asset data. So for example, users can understand where the vegetation hazards are in their networks in order to plan remedial actions for preventing outages.
What do you think about the concept of the digital twin?
According to the digital twin concept the physical and the virtual world are bridged together where data is transmitted seamlessly allowing the virtual entity to exist simultaneously with the physical entity (Wikipedia, 2019) Caydence fits into this concept perfectly since it is replicating an electricity network along with the surrounding vegetation (physical entity) into a virtual 3D spatial data representation identical to the physical one. This means you can use this to make plans, understand the logistics on site or challenges you will encounter, etc.
How does it relate to GIS, Asset Management Systems and Enterprise Resource Planning software?
It has elements of all of the above. It is a platform that GIS data can go into but it's about reading and instantly accessing massive datasets (i.e. LiDAR point cloud) which often dont/cant go into a GIS. It's more about creating a 3D world populated with asset information (which can talk to your existing AMS) that enhances productivity and leads to better and faster organisational decisions in the utility industry..
Is it just about being able to see the data in 3D though? Is there anything else?
Caydence is a visualisation tool that allows clients to access and interact with a variety of datasets, alongside their own network data. It lets them deal with what are huge volumes of data in a very slick way which is something they could not otherwise achieve. Then to task actions and report on work.
What's next for Caydence?
Caydence is part of our Vegetation Management solution and will offer a holistic and seamless solution to the utilities for analysis of their data in order to improve the monitoring and assessment of their electrical network. There are also some really exciting initiatives happening to integrate field task management with the software. Watch this space!
Tell me about your involvement in Caydence?
As the Caydence Product Manager, I am working together with a number of different stakeholders in order to set and then implement the plan and the vision of the product. One key responsibility is to capture the voice of customers and understand their needs and then make sure that we offer a product that will serve these needs and offer solutions to their issues and complies with their expectations. For achieving this, I am closely collaborating with our development department as well as with the business development team. In a more general view, being a Product Manager means to be able to connect all the different nodes from market understanding to new feature creation and improving our solution so that it can further benefit our clients.
What do you like best about working as a Product Manager?
I enjoy being in between all these stages and not focusing for example only to the technical or to the marketing side. By interacting with all these different stakeholders and by being involved in all the stages of the product's evolution, I am constantly being challenged, studying, learning and applying what I discover. My collaboration with the different departments, allows me to understand the whole product cycle and by capturing the voice of customers I am keeping a focus on what is happening outside our company as well. This is a challenging role that accelerates my thinking processes and never makes me feel bored or outdated.
Learn more about our Caydence software.